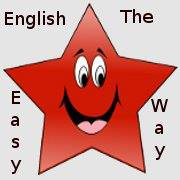 English The Easy Way
Everybody Can Learn English
English Grammar
Position Prepositions
Position Prepositions
Position Prepositions are used to clarify the position something or someone.
Position prepositions are used with all nouns. The preposition usually comes before the noun or the pronoun. The preposition never comes before a verb.
Common Position Prepositions:
At - The people are at home.
Across - My house is across the street.
Above - The box is above the door in the room.
Against - The bed is against the wall.
Around - We need to put tape around the box
Behind - Who sits behind you in English class?
Below - I put some boxes below the bed for storage.
Between - I sit between my friends in school.
By - There are stores by my house.
In - I work in a small building.
Inside - The girls are inside playing on the computer.
Near - I do not live near the train station.
Next Who sits next to you in English class?
Outside - We like to play outside.
Over - There are books over the TV.
Under - There is a leak under the sink.
Position Prepositions
In At On - Time Examples - Chart
In At On - Time Prepositions Quiz
In At On - Time Prepositions Quiz #2
In At On - Time Prepositions Quiz #3
In At On - Time Prepositions Quiz #4
In At On - Time Prepositions Quiz #5
In At On - Place Prepositions Quiz #1