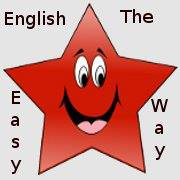 English The Easy Way
Everybody Can Learn English
English Grammar
Along & Behind
Along & Behind
Behind - is used when you want to say that something is in back of something else.
In the bus we sit behind the bus driver.
The children sit behind the desk at school.
The taller children stood behind the shorter children for the class photo.
Along - something that is in a line, or that is moving in one in one direction or the direction of something.
Walk along the side of the street, till you see the library.
We have trees along our street.
At the swimming pool, people like to sit along the pool.
Along & Behind