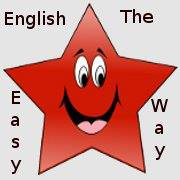 English The Easy Way
Everybody Can Learn English
English Grammar
Comparative Adjectives - Degrees of Adjectives
Comparative Adjectives - Degrees of Adjectives
Comparative Adjectives - are used to compare the differences between two nouns.
Note: Superlative adjectives - are used to compare three or more nouns.
Examples:
The black dog is older, than the white dog.
My house is bigger than my sister's house.
The yellow hat is more expensive, than the green hat.
Rules for using comparative adjectives
"Than" is usually used after the comparative adjective. -er is added to the end of a 1-syllable adjective.

cold - colder - The winter is colder than the summer.
small - smaller - The green hat is smaller than the yellow hat.
tall - taller - Most basketball players are taller than me.
Adjectives that have two syllables and end in - y, then change the -y to -i and add -er.

early - earlier - I came home earlier than my sister.
happy - happier - I am happier now than 1 year ago.
"more" or "less" are used for adjectives that have two syllables that do not end in -y.

honest - more honest - Police officers are usually more honest than criminals.
difficult - less difficult - The last test was less difficult than the test today.
modern - more modern - Our generation is more modern than our parents generation.
"more" or "less" are used for adjectives that have 3 or more syllables.

expensive - less expensive - My car is less expensive than my sister's car.
comfortable - more comfortable - The sofa is more comfortable than the chair.
Adjectives that end in -e, only -r is added.

nice - nicer - The beach is nicer than that park.
safe - safer - Airplanes are safer than cars.
Adjective that end in with a consonant, vowel, consonant - the last consonant is doubled.

big - bigger - My house is bigger than my sisters house.
hot - hotter - The summer is hotter than the winter.
Comparative Adjectives - Degrees of Adjectives
Denominal Adjectives Quiz Download the PDF
Comparative Adjective Structure
As...As Comparative Adjectives
Using 2 & 3 Adjective Together
Superlative Adjective Structure